Have you ever made a decision that you later regretted? You're not alone. Most people are familiar with the discomfort of going down the wrong path. Some mistakes are small and not worthy of second thoughts. However, common regrets concerning relationships, family, health, and careers, may linger for years or potentially on your deathbed.
Use your regrets to help you make life-changing decisions, compensate for lost opportunities, and let go of those you can't fix. Acknowledging your regrets can often lead to a more fulfilling life.
Making Poor Judgment About People
Photo Credit: Deposit Photos
It's natural to want to like people who like you. Sometimes, you may waste time worrying about people who don't reciprocate their friendships or partnerships. Instead, they quickly disappear from your life, leaving you in grief. Learn to move on in your life and let go so you can have a lifetime of healthy and fulfilling relationships you value. 
Treating People Poorly
Photo Credits: Deposit Photos
Alternatively, some regret how they treated people in their youth, including close friends, exes, or family members who are longer here or are long on to other partners and friends. Someone tenderly wished they had videoed their Dad, who passed away several years ago, so he could remember his voice forever.
Worrying Too Much About What Others Think
Outside of your close friends, family, and significant other, don't worry about what others think of you. Sure, it would be ideal to be admired universally, but that may be a false expectation, causing you significant anxiety and stress.
Sometimes, you may even regret listening to those in your valued circle if it contradicts your gut. Putting yourself first works to your advantage. Believe in yourself rather than following other people's expectations of you, and learn from your failures to succeed better.
Opportunities Not Taken
Photo Credit: Deposit Photos
Due to a lack of confidence, people often miss out on opportunities at a young age that could have strengthened their careers. As your confidence builds over time,  accept greater responsibilities.
It's not unusual to hear about people passing on promotions or a new job for fear of not being up to learning how to do the more complex tasks. Most new jobs have some learning curves to adapt to over time. Embrace the opportunities for new skills which will strengthen your career. Don't overthink rewarding choices by passing them by. Speak to those who know more about these choices and help you decide.
Not Following Their Passion
Photo Credit: Deposit Credits
Many people complain later in life about not following their passion or dreams and taking a safer road, only to be unhappy later. Acknowledge your intuition about how you want to spend your time. Enjoying your work is a huge step toward finding success.
Finding yourself behind a desk for 30 years doing a job you hate is a terrible recipe. If you find yourself in such a position, decide to change your situation by investing time to find out what interests you more. You may prefer working outdoors and want to consider landscaping if you are attracted to gardening.
Going/Not Going to College
Photo Credit: Deposit Photos
People have many regrets about their college experience or not attending college. Many find themselves in college without "having the slightest idea" about what they want to do with their lives, blaming societal or family pressures for pushing them towards getting a degree in a hurry.
Many students choose the wrong courses or majors rather than pursuing help from counselors to get into a more suitable program. True, switching majors may involve higher costs as you need to add more prerequisites. However, that's a small bump along your career path if it is more desirable long term.
Working Too Hard
Photo Credits: Deposit Photos
Shortly after Senator Paul Tsongas was told of his cancer diagnosis in the early 1980s, someone wrote him a letter that said, "Nobody on his deathbed ever said, "I wish I'd spent more time on my business." People often complain that they put their all into their jobs, working long hours for companies that don't care about them or value their work. Even if they love what you do, many recommend balancing your work life with your family and friends.
Poor Health Choices
Photo Credit: Deposit Photos
As we age, we often regret eating poorly, being overweight, not sleeping or exercising enough, and being prone to excessive alcohol drinking and smoking. Some people in their late 20s and 30s often refer to "horrible brain fog" accumulated from smoking marijuana in their teens and are having trouble concentrating at work. They can clear their heads and save money on this expensive habit by stopping it.
The quicker people recognize the negative consequences of these bad habits, the more likely they can recover and enjoy better wealth through dieting, quitting cold turkey, or turning to medical professionals to help them on their way.
Have Money  Management Problems
Photo Credit: Deposit Photos
Many people believed they would have been stronger financially if they had saved more money earlier. Instead of focusing more on priorities, they spent more liberally on things they didn't need. Regrets may be that you invested in Bitcoin at its peak, didn't invest in a diversified portfolio, or took on too much high-cost debt. Make an effort now to undo some of these mistakes and reach out to a financial advisor to help you get back on a better path.
Not Getting Help Sooner for Mental Health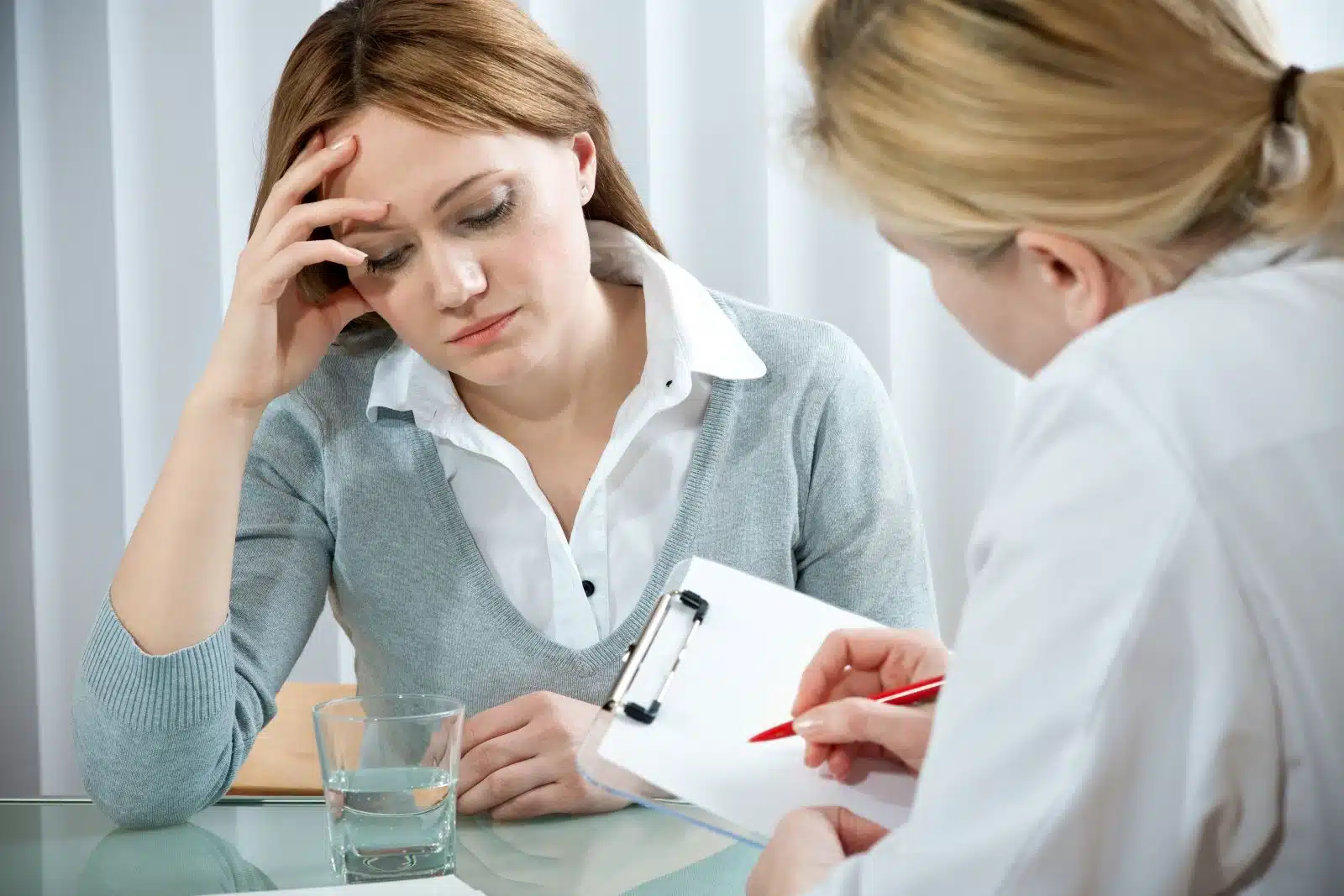 Photo Credit: Deposit Photos
Many people suffer from depression, have suicidal thoughts, and are anxiety-ridden, impacting their lives significantly, without seeking professional help. It is debilitating and hurts those they love and themselves. Several people on the online forum reported success when they acknowledged their problems with professionals, experiencing joy in their lives.
Regret More What They Haven't Done
Photo Credit: Deposit Photos
Several people commented on their regrets about things they haven't done and plan to do. Among things people want to do more of include traveling, reading more, and taking education and life more seriously. They want more experiences like trying exotic food, hiking, and bicycling in Europe. As the iconic Nike tagline goes, "Just Do It."
10 Annoying Phrases Men Never Want to Hear From Women
Photo Credit: Adobe Stock
Communication is integral to any healthy relationship, but sometimes our words can cause more harm than good. While it's essential to be mindful of our language and how it affects others, there are certain phrases that men might find irritating, frustrating, or even offensive to hear from women.
10 Iconic Snacks That Should Have Never Been Discontinued
Photo Credit: Adobe Stock
Snacks are a staple of our daily lives, satisfying our cravings and giving us that extra energy boost throughout the day. Some snacks, however, have become a part of our culture and have gained a loyal fan base. These iconic snacks have become a part of our childhood memories, and even after their discontinuation, they still hold a special place in our hearts.
These 10 Healthy Foods Are Just As Satisfying As Junk Food
Photo Credit: Shutterstock
In a world where unhealthy foods are often marketed as indulgent treats, it can be easy to overlook the delicious and satisfying healthy options available. Luckily, the internet is filled with people who are eager to share their favorite healthy foods that taste just as good as the less nutritious options. Here are some of the top suggestions from individuals who have found healthy foods that satisfy their cravings just as well as their less healthy counterparts.
You're Missing Out If You've Never Tried These 10 Gas Station Snacks
Photo Credit: Adobe Stock
When you think of gas station snacks, your mind might immediately jump to the usual chips, candy bars, and energy drinks. However, many gas stations offer a surprisingly wide variety of unique snacks that often go overlooked. From Pickle in a Pouch to Moon Cheese, there are plenty of options to choose from that can satisfy your cravings and offer a new taste experience.
You're Way Too Polite If You Do These 10 Things
Photo Credit: Deposit Photos
Being polite is generally considered a good quality, but, as with most things, it can be taken too far. It's important to remember that being overly polite can have negative consequences. If you struggle to say 'no' or get pushed around by others, you may be too polite for your good. This blog post will look at ten signs of being too polite and how to break out of the habit of excessive politeness. Whether you have difficulty saying no in social situations or putting others before yourself, these tips help you take charge of your life and set better boundaries with others.
This thread inspired this article.
This article was produced and syndicated by The Cents of Money.
Hi There!
With a passion for investing and personal finance, I began The Cents of Money to help and teach others. My experience as an equity analyst, professor, and mom provide me with unique insights about money and wealth creation and a desire to share with you.