When you think of Halloween, what comes to mind? Costumes, candy, and even goblins are images we remember from our past. How about Halloween decor that is wickedly creative that feels like it came from the Addams Family set? Sorry, I was a big fan of the show highlighting the odd wealthy clan surrounded by their macabre interests.
Halloween is a big holiday for consumers. According to a National Retail Federation's annual 2020 survey, more than 148 million adults planned to participate in Halloween activities, spending over $8 billion despite the pandemic. Among those celebrants, safe-at-home activities ranked highest, with 53% planning to decorate their homes. Only handing out candy was higher at 62%.  2021 is likely to show the same trends.
Households can enjoy creative Halloween decor inside and outside their home, not just to celebrate this autumnal holiday. Many people like to express their Gothic tendencies all year round by watching scary movies, listening to punk rock, enjoying escape rooms with friends, reading Edgar Allan Poe's stories, lighting black candles, or keeping skulls around.
We went on a treasure hunt for affordable, dark, spooky, and kooky decor that would find a place in or outside your home.
Disclosure: This post may contain affiliate links, meaning I get a small commission if you make a purchase through the link at no extra cost to you.
25 of the Best Halloween Decorating Ideas That Are Wickedly Creative And Fun
1. Readaeer Life Size Human Skull Model 1:1 Replica Realistic Human Adult Skull Head Bone Model
No Halloween can be complete without a realistic skull, but please look for replicas only. I want to keep my head for one reason.
 2. Halloween Graveyard Decorations, Grave Tombstones Cemetery Signs, with Metal Stakes Outdoor Haunted House, Scary Theme Party Decor Lawn Decorations
Where should you place your skull? If you are thinking outdoors, no home should be without a cemetery on Halloween.
3. JOYIN Halloween Decorations Skeleton Stakes, Realistic Looking Yard Lawn Garden Stakes, Groundbreakers for Best Halloween Yard Decorations Outdoor Graveyard
4. Horror Movie Garden Gnomes – Nightmare Horror Gnome, Killer Garden Gnome Spooky Undead Halloween Sculpture Combat Gnome Decoration, Dwarf Zombie Statue for Outdoor Yard or Lawn Decor (11-Pack)
These garden gnomes will become your friends forever if you want. Spread them out or keep them together, and they are colorful by day and spooky kooky by night.
5. GOOSH 4 FT Height Halloween Inflatable Outdoor Hanging Cute Ghost, Blow Up Yard Decoration Clearance with LED Lights Built-in for Holiday/Party/Yard/Garden
On the lighter side, who doesn't love ghosts? You can always hire the guys from Ghostbusters (a favorite movie!) or have this cute one.
6. Eldnacele Halloween Flickering Candles with Skull, Spider Web, Crow Raven Decals Set of 3, Battery Operated Halloween Themed LED Candles Horror Spooky Decoration
My favorite is the raven image on the candle, which provides spooky light while reading Edgar Allan Poe's tales of psychological terror.
7. The Complete Tales & Poems of Edgar Allan Poe (Timeless Classics, 5) Hardcover – August 11, 2020
Halloween would not be complete without reading "The Raven" in Poe's complete tales and poems, commensurate with the raven on its cover.
8. DWK – Murder & Mystery – Ravens on Skulls Bookends Gothic Poe Crow Reading Bookshelf Library Home Décor Book Shelf Accent, 8.5-inch
These bookends are terrific all year round and use the raven theme.
9. LB Witch's Wood Cabin Magic Book Shelf Flying Broom Shower Curtains for Bathroom, Magic Halloween Night Decor, 70 x 70 Inches Shower Curtain Set Waterproof
Typically, there is no reason for any fright when thinking about a shower curtain unless you recall poor Marion Crain (played by Janet Leigh) behind the fatal curtain in the movie Psycho.
These shower curtains are more fun and better for the occasion.

10. 41PCS Halloween Decorations Indoor – Halloween Spider Web Lace Mantel Scarf, Table Covers and Lampshade, Halloween Creepy Cloth, 3D Bats and Black Roses for Halloween Decor
This set will help any setting your home, adding accouterments, filling the room with Halloween decor theme-oriented items like 3D bats and black roses.
11. IRISVITA Gothic Candle Holders, Sconces Wall Decor Set of 2, Medieval Decor, Wall Mount Farmhouse Decor, Spooky Gothic Decor, Gothic Home Decor, Rustic Home Decor, Goth Wall Decorations – Black
It doesn't have to be Halloween to light up your hallways with elegant goth wall sconces that go back to medieval times. The original goths were members of a Germanic people that overran the Roman Empire in the early centuries of the Christian era.  Today, goth may be rock music marked by dark and morbid lyrics or a performer of goth.
12. Fireproof Clay Ceramic Skull Sculpture-Etsy
These clay skulls can be perfect for using fire pits, fireplaces, altars, Halloween decorations, or general home decor.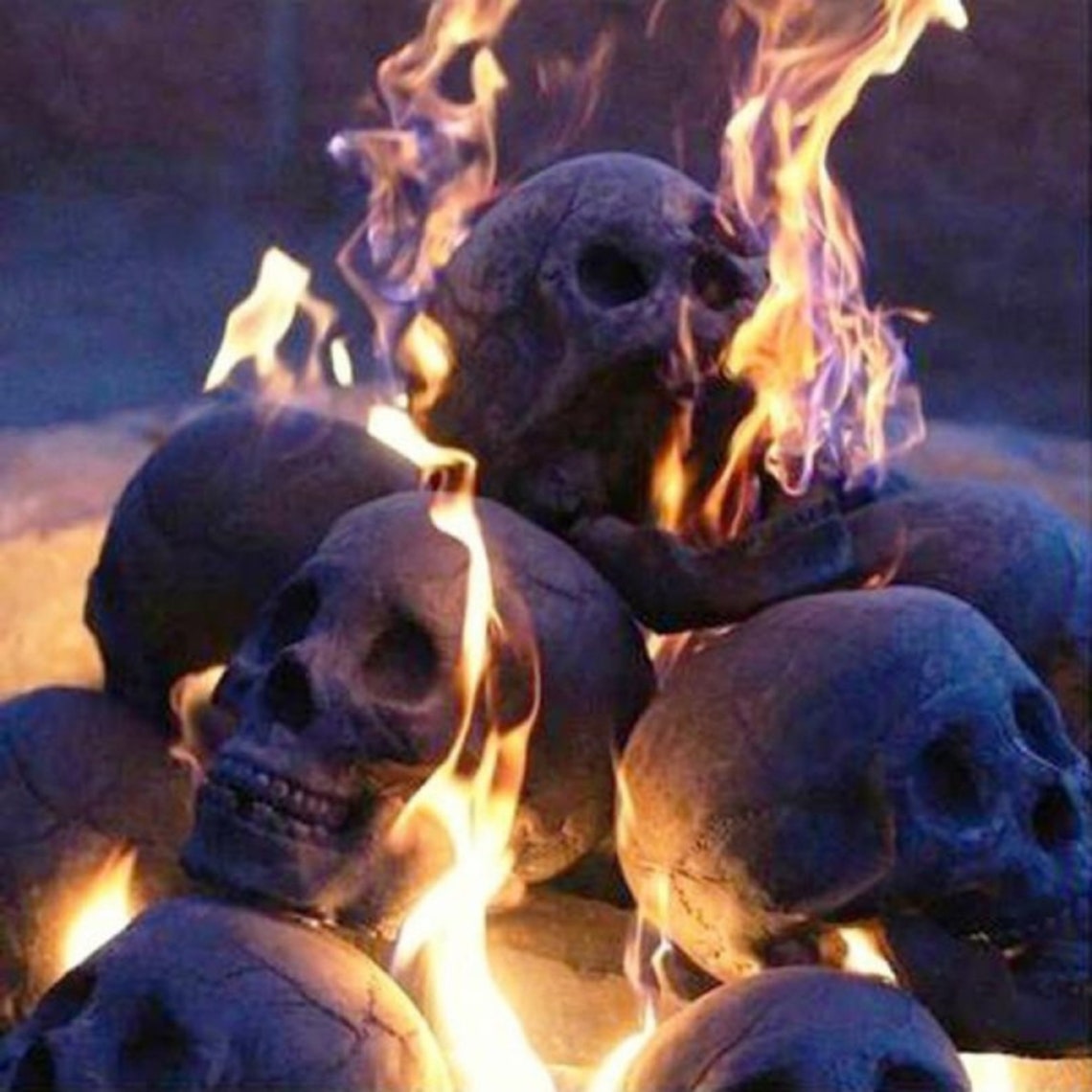 13. Set of 6 Vintage Halloween Prints, Halloween Decor, Skeleton Wall Art, Vintage Art Print Funny Halloween Print Art Skull Raven Pumpkin Art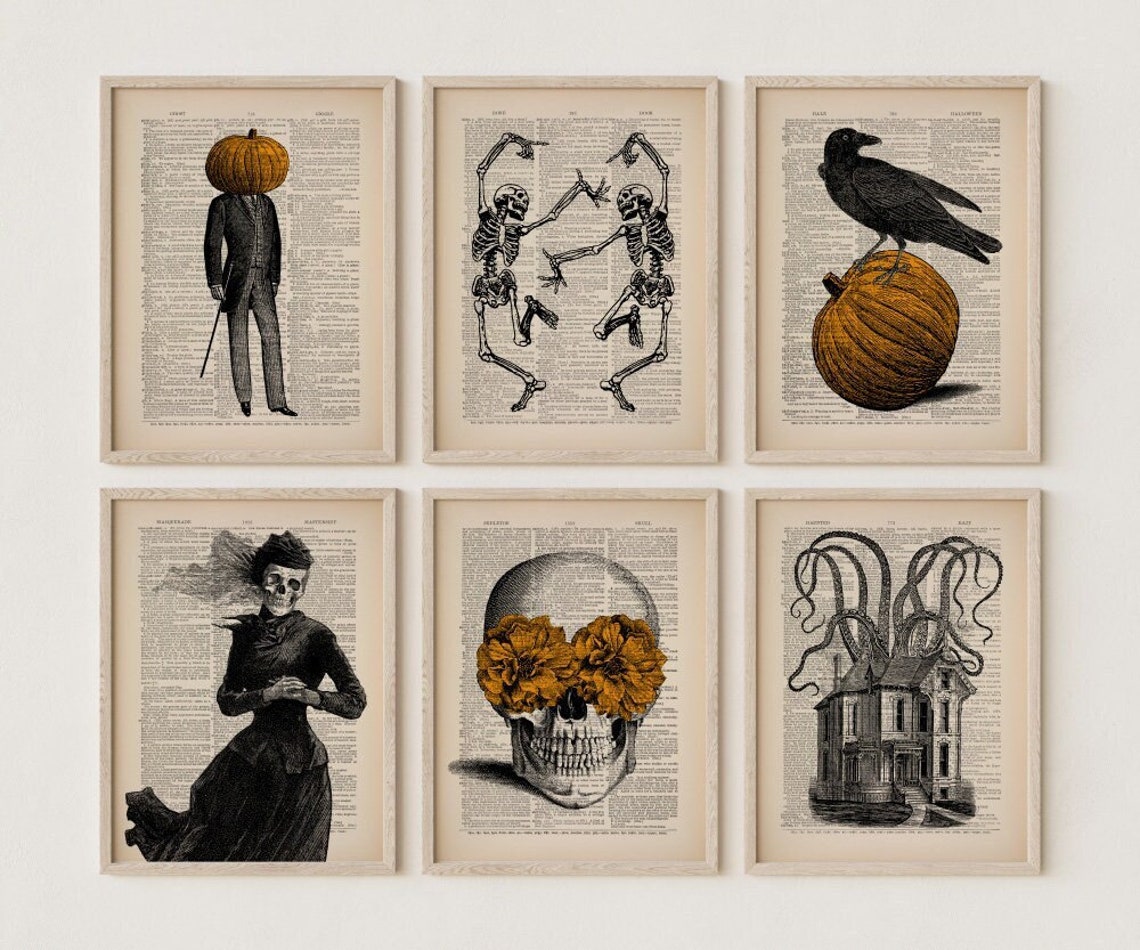 14. Halloween Crashing Witch, Witch Funny Hanging Crashing Into Tree for Outdoor Halloween Decorations, Witch Decor for Door Porch Decoration
I have had a thing for witches, good and bad, since my infatuation as a kid for The Wizard of Oz. This funny witch may be a tree hugger, perfect for Halloween!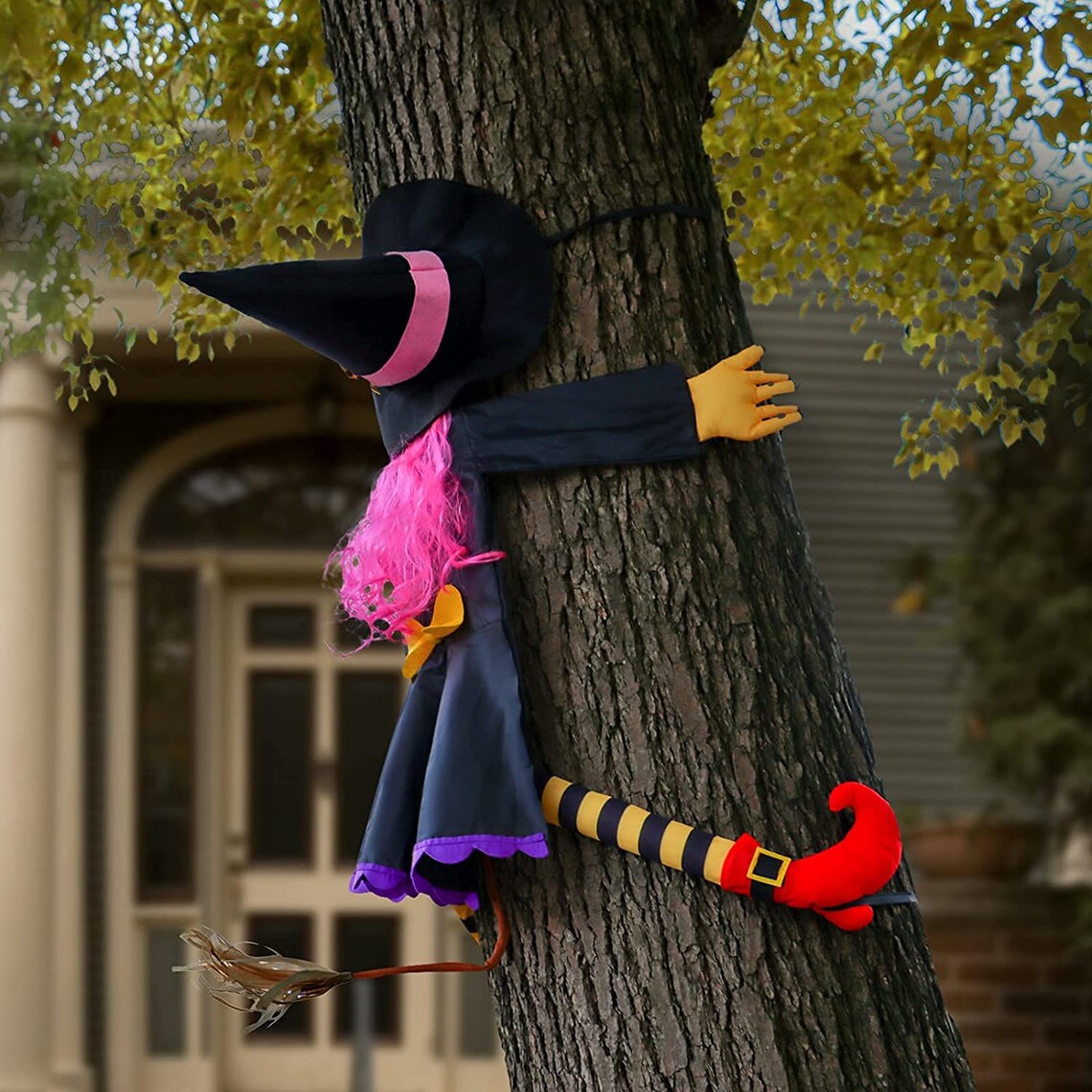 15. Halloween Black Spider Web Light, Scrary Halloween Decor, Halloween Lights, Indoor and Outdoor Halloween Horror Home Party Decor Gift
Scrary or scary, if you don't like creepy crawling spiders, this one may just be perfect for you! I can't even say the word s-p-i-d-e-r in my daughter's presence or is it another excuse for her to run away from me asking her to do the dishes? This intricate spider web light is handmade and friendly.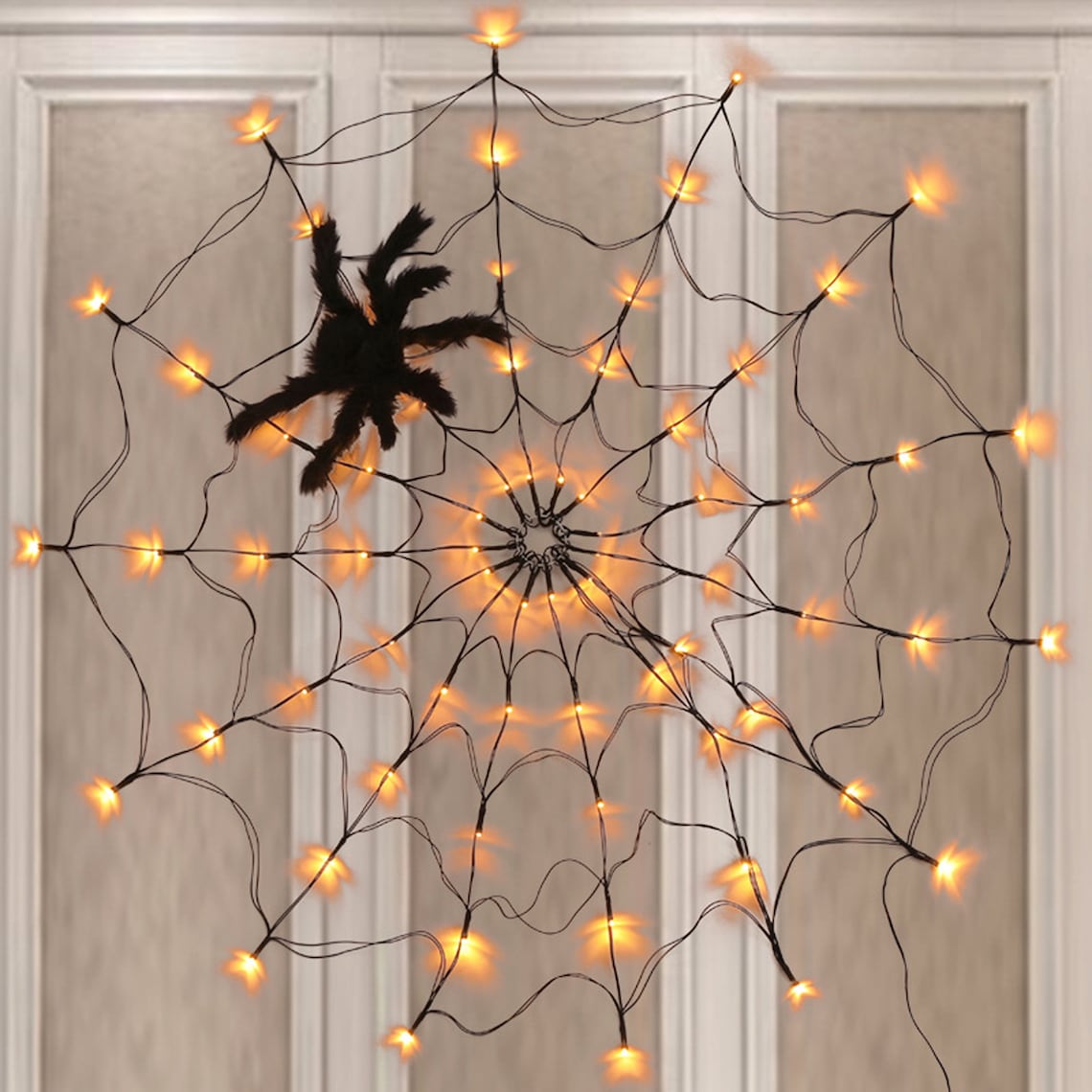 16. Funny Doormat, Gothic Decor, Fall Doormat, Halloween Home Decor, Welcome Mat, Hocus Pocus, Personalized Doormat, Spooky Season, Occult Decor
Halloween, or otherwise, you should always let your guests feel welcome to your home all year round!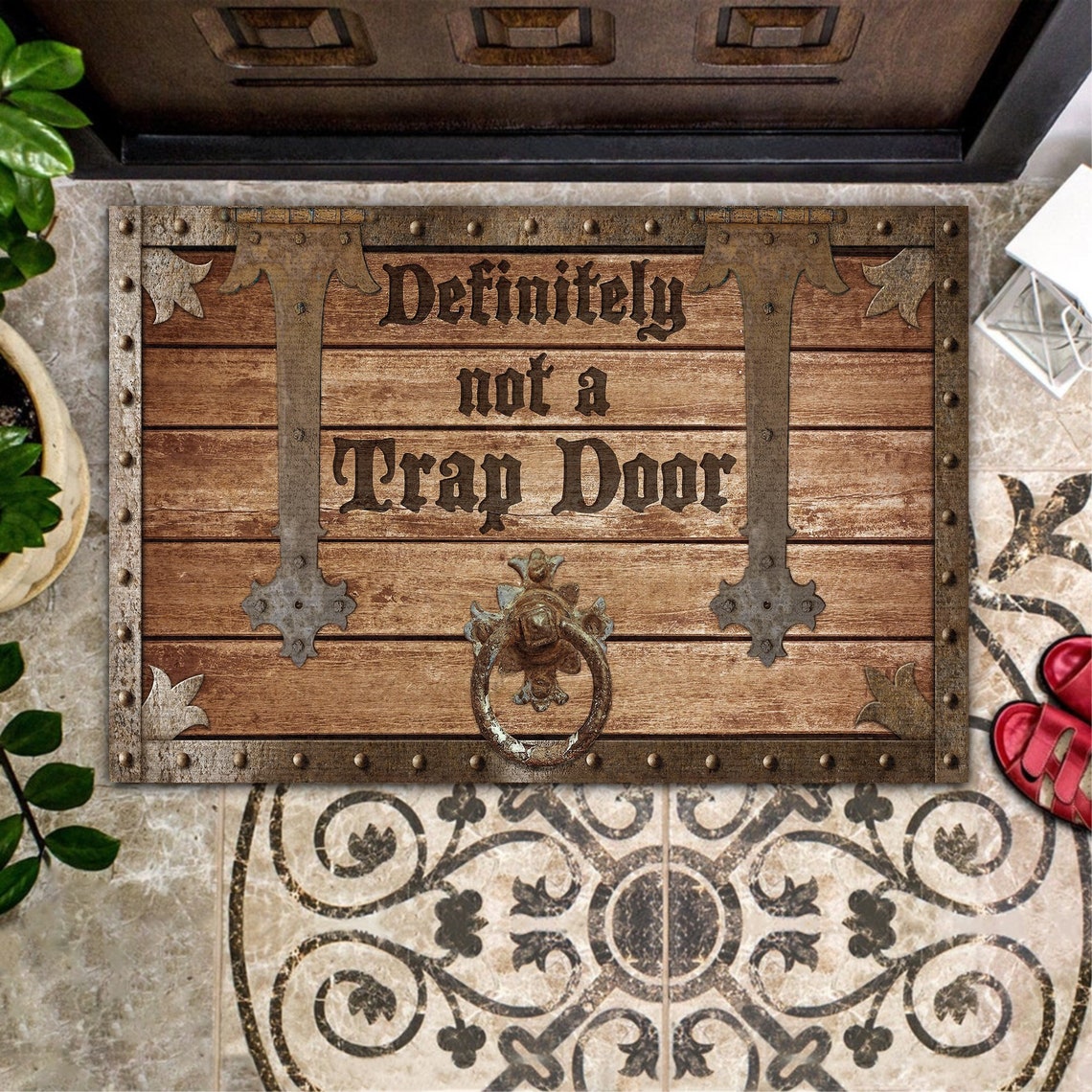 17. Liberty Imports Motion Activated Haunted Mirror with Creepy Sound-Luminous Portrait Halloween Prop Decoration
A haunted house has to have an eerie mirror to cause a bit of a fright.
18. Halloween Wooden Pumpkin Decoration   
This handmade wooden decoration sends a happy message indoors and outdoors as these friends hang out together and say, "Boo!"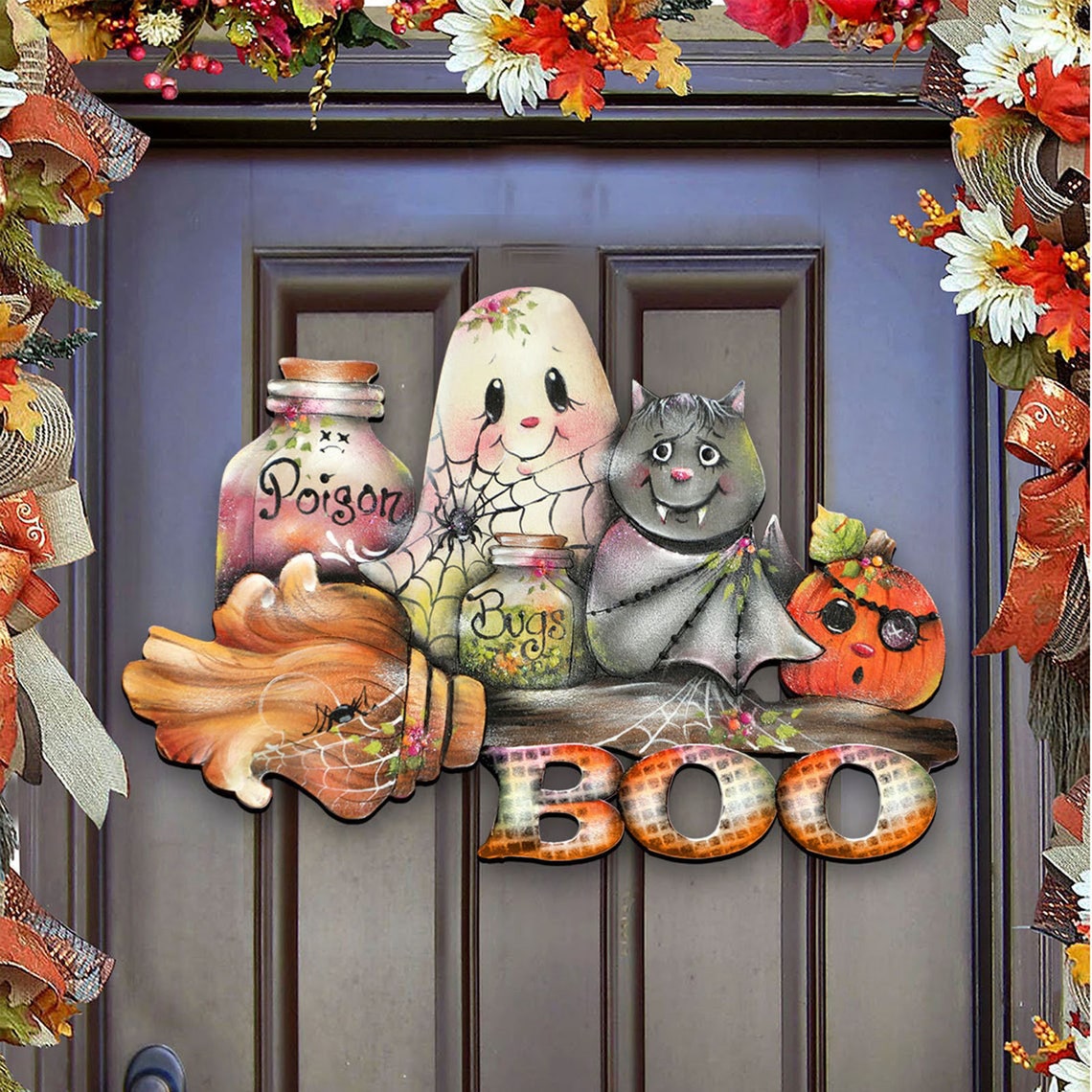 19. Spooky Goth Decor Coffin Shelf – Wooden Gothic Decor for Home, Black Hanging Wooden Shelf for Wall or Table Top, witchy room decor for oddities and curiosities, 50 Gothic skull witch Stickers included.
This coffin will help you keep your oddities close and curiosities closer.
20. Cornucopia Brands Black 16-Ounce Glass Apothecary Bottles (3-Pack); Boston Round Bottles with Designer Labels Ideal for Aromatherapy, DIY, Herbal Treatments and Halloween, Matte Black Coated Bottles
It's time to mix your deadly witch potions according to this time of year.
21. Hophen Scary Halloween Mask Terror Ghost Devil Mask Dance Party Scary Biochemical Alien Zombie Caps Mask
Like Zombie movies? I recommend one of the classics, 28 Days Later. Halloween often reminds me of zombie movies. Did you see Brad Pitt in World War Z? That is another favorite.
22. ESSENSON Halloween Decorations Outdoor – 70 Inch Hanging Corpses Props Scary Skeleton Body Inside Spider Web Halloween Yard Indoor & Outdoor Decor Halloween Party Favors Haunted House Decorations
Sometimes, you just want to hang out with your friends on Halloween. You can introduce your new friend here to others.
23. FUN LITTLE TOYS Halloween Mummy Decorationswith Sound, Glow in the Dark 14.6 Inches Large Scary Party Decor for Graveyard, Outdoor, Lawn, Haunted House Cemetary
Remember Pugsley Addams of Addams family fame? He would appreciate these toys!
24. LOVKIZ Halloween Spider Decorations, 4 Pack Realistic Giant Spider Outdoor Halloween Decorations, Scary Fake Spiders Sets Halloween Decor for Indoor, and House Front Porch Lawn Yard (49″, 30″, 20″, 20″)
Thank heavens, these large spiders are not real! However, they get high grades for their realistic and durable form from reviewers who are planting them in their yards.
25. amscan Dreadful Boneyard Halloween Party"Beware" Door Curtain Decoration, 1ct, One Size (241455)
A "Beware" sign is a must-have for your Halloween decor. Have you ever seen a "Don't Enter!" sign and have not been just a little bit curious as to what is beyond the prohibited door? Spray red paint to make it just a bit more haunted and you are set!
Have fun with these wickedly creative Halloween decor ideas for indoors and outdoors.
Hi There!
With a passion for investing and personal finance, I began The Cents of Money to help and teach others. My experience as an equity analyst, professor, and mom provide me with unique insights about money and wealth creation and a desire to share with you.